Professional Certifications
Press Release
Dry Clean Super Center of Bartlett Receives Award of Excellence
From International Drycleaning Association
The Drycleaning and Laundry Institute awarded Dry Clean Super Center of Bartlett in Bartlett, Tennessee, with the 2022 Award of Excellence in Quality Cleaning and Customer Service. Dry Clean Super Center of Bartlett has received the award for 13 consecutive years since 2011.
The Award of Excellence is the premier recognition program for professional members of the Drycleaning & Laundry Institute. To achieve the award, Dry Clean Super Center of Bartlett must prove it meets rigorous, objective standards in cleaning and service. Most importantly, the company must clean and return a specialized Cleaning Performance Evaluation to prove their cleaning quality is among the best. In addition, the company must successfully remove six common, but difficult, stains on a silk swatch and return it for evaluation.
Continuing education for staff and adherence to a set of customer service principles round out the requirements for consideration for the Award of excellence.
"The program helps motivate Dry Clean Super Center of Bartlett's staff, inspire innovation, and sustain consumer confidence in the drycleaning industry," said Mary Scalco, CEO of the Drycleaning and Laundry Institute, a 114-year old trade association designed to help drycleaners improve their businesses.
This prestigious award is given to very few select drycleaning establishments throughout the world that exemplify community service, continuing education, and leadership within the drycleaning industry.
Drycleaning business operators are not required to earn continuing education credits or achieve certification. Therefore, the Award of Excellence promotes educational and professional development to better serve families and communities.
"Receiving the Award of Excellence shows the level of service and dedication that my staff commits to the communities we serve," said Roy McLain, owner of Dry Clean Super Center of Bartlett. "It's an honor and a privilege to help our customers look their best. We are humbled by this award, but see it as a byproduct of our service, not an end result."
Founded in 2006, Dry Clean Super Center of Bartlett is located at 3050 Kirby Whitten Parkway in Bartlett, Tennessee. For more information on how they can make you look your best, look them up at DCSCBartlett.com
Press release from The Drycleaning and Laundry Institute, May 2, 2021
DLIOnline.org
Award of Excellence
For the 13th consecutive year, Dry Clean Super Center is one of only 68 drycleaners to hold the prestigious Award of Excellence from the Drycleaning & Laundry Institute International. Dry cleaners earn this seal by successfully completing stain removal and cleaning performance tests. In addition, each dry cleaner must meet other requirements involving continuing education, community service, and superior customer service.
The Drycleaning & Laundry Institute
Unlike many dry cleaners in our market, Dry Clean Super Center of Bartlett proudly operates under the guidelines of The Drycleaning & Laundry Institute. The Drycleaning & Laundry Institute (DLI) has been the premier international trade association for garment care professionals since 1883.
Representing more than 10,000 retail drycleaning facilities in the United States alone, DLI is the world's leading professional garment care organization. The certifications on this page reflect our commitment to the highest professional standards in the drycleaning industry.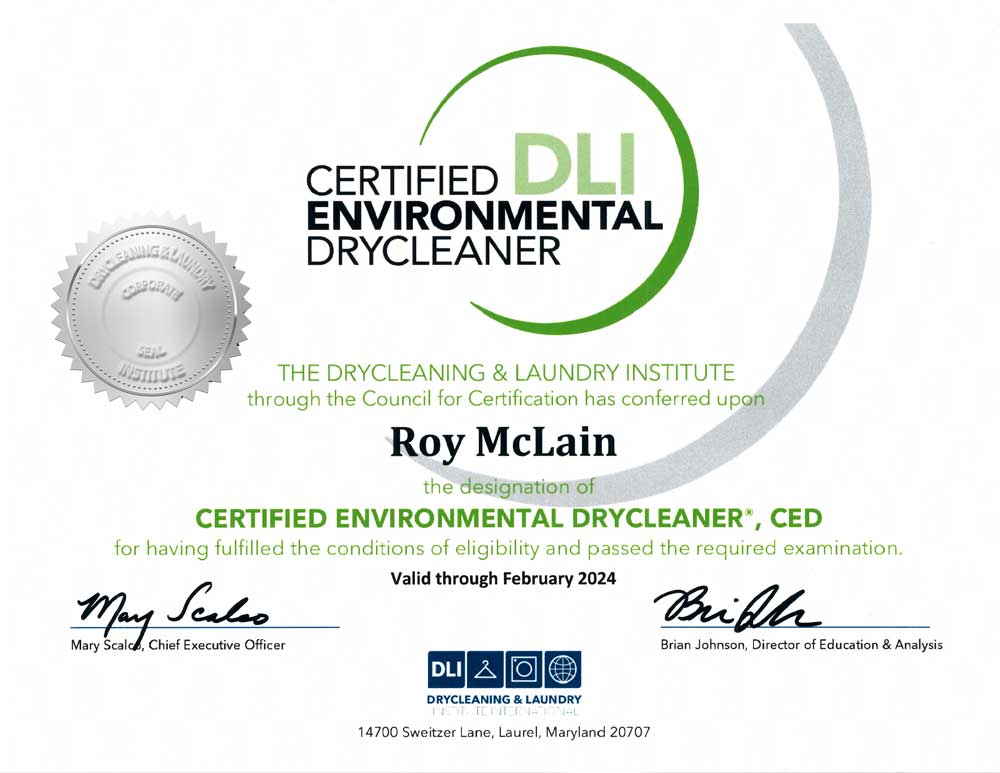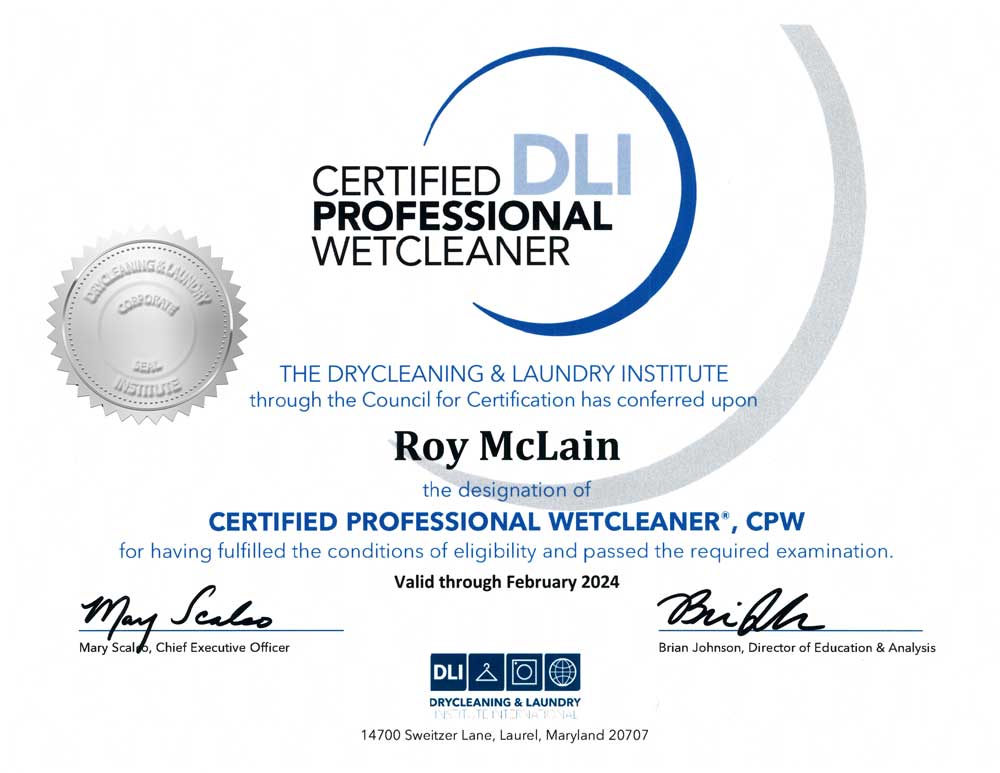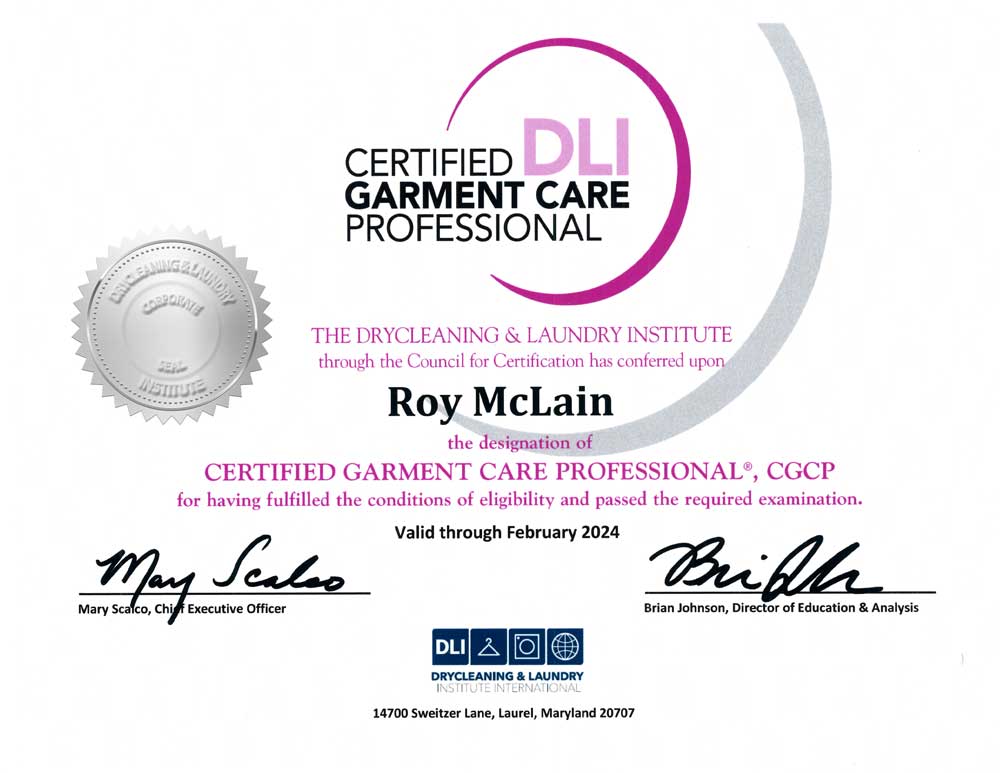 Professional Standards of Certified Cleaners
As a Certified Environmental Drycleaner®, Certified Professional Drycleaner®, or Certified Professional Wetcleaner®, I recognize certain responsibilities which are basic to the ethical conduct of my business and accept these basic responsibilities:
1. Responsibility to My Customers
I will safeguard customer property with all reasonable care and treat it with respect.
I will continually strive to provide courteous, considerate, and efficient service to all of my customers. Such service will never be tempered by concern for race, color, creed, or gender.
I will strive to make a profit through reasonable and intelligent pricing, efficient cost control, and superior service and product delivery. All pricing will be determined independently by myself and my representatives, based on the marketplace, available resources and individual business needs. Prices will remain uniform among customer categories and will not reflect discrimination in any form.
Customer claims for damaged or missing property will receive priority attention within a framework of courtesy, reasonableness, and timeliness.
2. Responsibility to My Workers
I do regard our workers as important, dignified individuals and they shall be treated accordingly.
I shall provide a safe workplace environment, both as a moral responsibility and in keeping with the laws of this nation.
I will train and inspire our employees to serve our customers with skill, courtesy, and a sense of importance of what they do.
I will provide our staff with benefits not less than may be prescribed by law.
3. Responsibility to My Profession
I will work to continually upgrade the image of this profession by expanding my technical and managerial knowledge and skills through study and self improvement and then apply this knowledge to my everyday business life.
I will be appropriately responsive to the needs of others within this profession.
I will refrain from publicly or privately causing harm to other drycleaners, for by doing so we create customer confusion and damage the image of all in our profession. I will strive to keep advertising and other tools of business competition positve and self serving, rather than using this means as a personal attack on another in this industry.
4. Responsibility to My Community and Nation
As a law-abiding businessperson, I acknowledge my responsibility to know and follow the letter and intent of all community, state, and national laws. I acknowledge my right, however, to peacefully work to change such laws that encroach on my moral, ethical, and economic standards.
I pledge to act as a good citizen, willing to pay civic dues to the community from which I earn my income and profit.
As a good citizen, I will practice sound environmental management techniques consistent with modern procedures and methods. Environmental considerations will be given high priority when facd with the need to replace old equipment.